REITs underperformed broader markets for the month of May but outperformed on a year-to-date basis as equity markets continued to be buffeted by heightened volatility. In May, the FTSE Nareit All Equity REITs index posted a total return of -4.7% while the Equity REITs index was down 6.2%. The Russell 1000 ended the month with a total return of -0.2%.
REIT and non-REIT markets continue to battle the headwinds of tightening monetary policy and inflationary pressures driven by supply chain woes. Both factors have lowered expectations for economic growth and correspondingly corporate earnings. The disappointing results released by Amazon at the end of April persisted as an impediment in May as investors grappled with the prospect of additional warehouse space coming into the market as Amazon looks to sublease at least 10 million square feet of excess warehouse space. In May, the industrial sector lagged all other sectors with a monthly total return of -15.6%.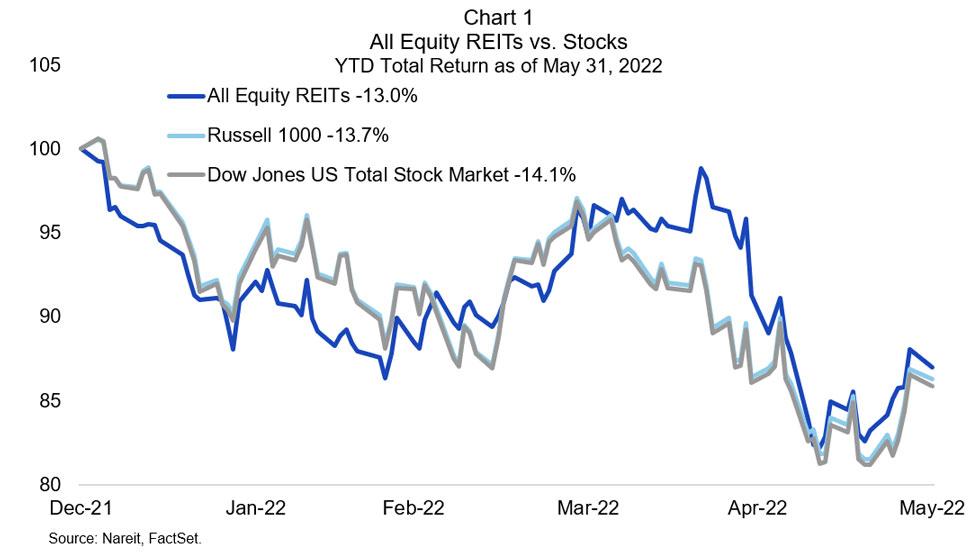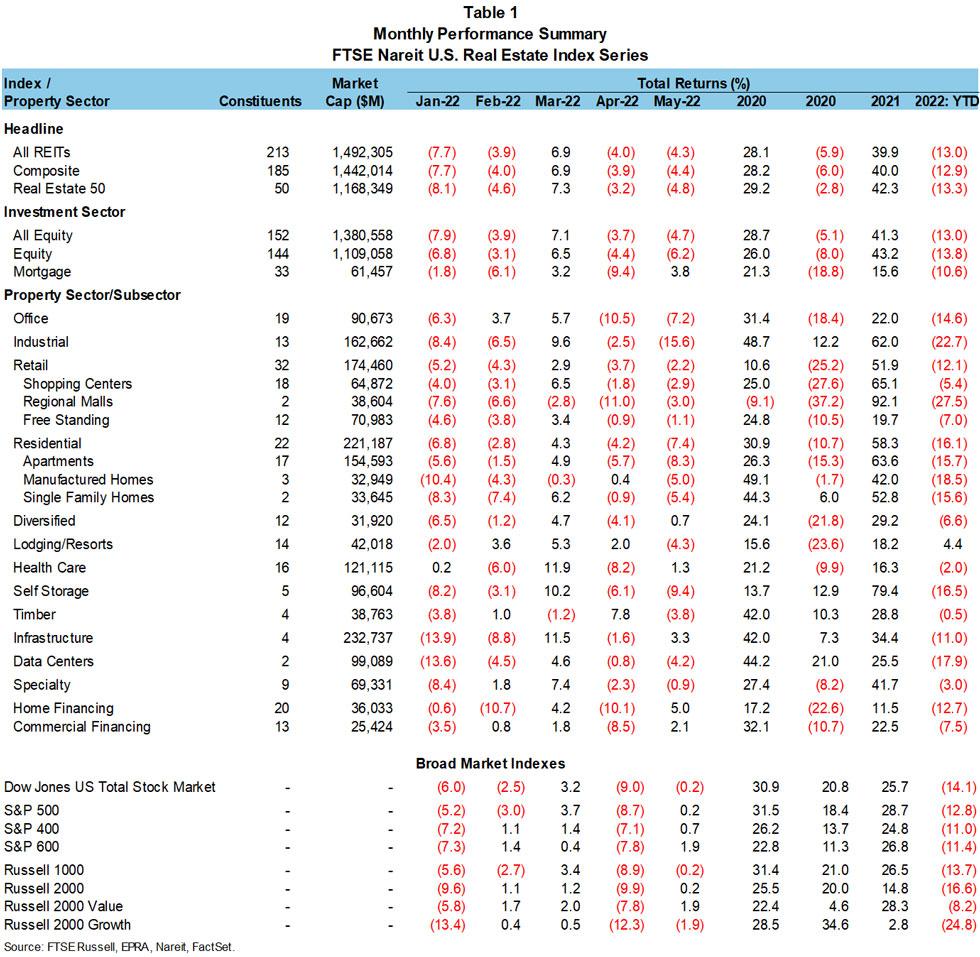 As shown in the chart and table, REITs were hit harder than broad markets in May, with a total return of -0.2% for both the Dow Jones U.S. Total Stock Market and Russell 1000 against -4.7% for All Equity REITs. On a year-to-date basis, All Equity REITs is down 13.0%, while the Russell 1000 is down 13.7% and the Dow Jones U.S. Total Stock Market is down 14.1%. Since February 23, when Russia invaded Ukraine, the All Equity REITs index has returned 0.7%, versus -2.4% for the Russell 1000 and -2.6% for the Total Stock Market.
In May, All Equity REITs were buoyed by a total return of 3.3% from cell tower REITs (infrastructure), which led all sectors, followed by health care at 1.3% and diversified at 0.3%. Year-to-date, lodging/resorts remain the lone sector with positive total returns at 4.4%, followed by timber at -0.5%, and health care at -2.0%. Following the industrial sector, the worst performing sectors for the month were self-storage at -9.4%, residential at -7.4%, and office at -7.2%. Mortgage REITs posted a total return of 3.8% in May, with home financing mREITs returning 5.0% and 2.1% for commercial financing mREITs.
Get Nareit Market Commentary blog posts delivered straight to your inbox.
Subscribe